---
Introduction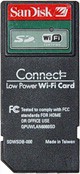 Sandisk SD Wi-Fi card
Summary
First 802.11b adapter in SD format. For Pocket PCs with SDIO slots only!
New version available July 2004 supports Palm Zire 71
Update
None
Pros
• 802.11b wireless for SDIO Pocket PC
Cons
• Less than 500kbps best-case throughput
• May not associate with some 802.11g APs / routers
SanDisk generated a good deal of excitement in the Pocket PC community with the long-awaited release of its Wi-Fi SD card back in August. I, too, was excited when my sample finally arrived last week, but after a few days of working with the card, my jets have cooled a bit...
Internal Exam
The SD WiFi is a re-branded SyChip WLAN SD6060 reference design whose innards are shown in Figure 1. It's an impressive feat of engineering and I found myself marveling at the card each time I picked it up!

Figure 1: Internal view of the SD WiFi
(click on the image for a full-sized view)
To take advantage of this small wonder, you'll need a device running PocketPC 2002, 2003 or CE.net. Support for Palm OS 5.X is "coming in Fall 2003", but from what I can glean from the discussion boards, this date has slipped a few times and it could easily be next year before Palm support becomes a reality.
The card contains all the pieces found in PC Card and CF wireless adapters, and is based on a two-chip RF, BB/MAC design as shown in Figure 2.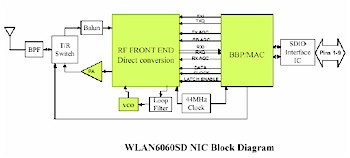 Figure 2: SD WiFi block diagram
(click on the image for a full-sized view)
The FCC test reports indicate a Peak Power output of 17.8dBm / 60mW (averaging the Channel 1, 6, and 11 measurements), which is about average for most 802.11b and 11g cards. Note that this figure is actually EIRP, which includes 3dB gain from the card's integrated antenna. (Also note the teeny-tiny antenna connector in the lower right hand corner of the picture - which is not exposed on the SD WiFi!)
The card has a tiny LED on its front surface, which blinks when the card isn't associated with a network and is steadily lit when it is.