---
Introduction
NETGEAR Prosafe Dual Band Wireless VPN Firewall (FWAG114)
Summary
First dual-band tri-mode wireless router with Atheros-based 11a, b, and g radios and 2 tunnel IPsec VPN endpoint
Update
None
Pros
• Excellent 11a performance
• Separate b/g and a radios
• Superior 11g throughput vs. range
Cons
• Does not play well with Broadcom 11g clients
• Non-upgradable antennas
• Wireless repeating and bridging not supported
• WPA not supported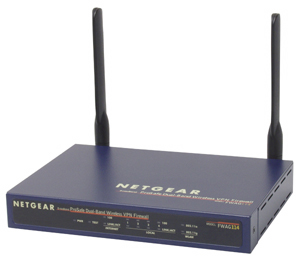 I've waited a long time to get my hands on an Atheros-based 802.11g AP / router and NETGEAR finally obliged with the release of the FWAG114. I've always been impressed with Atheros' client performance in NETGEAR's WAB501 a/b [reviewed here] and WAG511 a/b/g [reviewed here] CardBus cards, and wanted to see if they could deliver the same goods on the AP end of things.
Basic Features
The FWAG is aimed at the "enterprise" crowd, so comes in NETGEAR's sturdy blue metal box instead of the plastic "Platinum" line enclosure used for consumer networking products. The box is pretty compact - about the size of a 200 page hardcover book - and has slots on its bottom for wall mounting.
All indicator lights are on the front of the box and are bright and viewable from a wide angle. Indicators include Link/Activity and 100Mbps for the four 10/100 ports and one 10/100 Ethernet WAN connection. There are also separate Activity and lights for the 802.11a and b/g radios and Power, and Test general indicators.
Four 10/100 LAN ports, one 10/100 WAN port and power jack are on the rear panel, along with the Reset-to-Factory-Defaults switch. Note that all LAN ports are auto MDI / MDI-X which means they'll figure out how to connect to whatever you plug into them, including switches or hubs if you decide to expand the number of ports.