---
Introduction
Netgear RangeMax 240 Wireless Router
Summary
802.11b/g enhanced-wireless router based on 3rd gen Airgo chipset. Reaches peak aggregate throughput over 100Mbps.
Update
3/13/2006 - Added information on original RangeMax and 108 Mbps client interoperability
2/2/2006 - Added note to clarify Table 1 and 2
1/26/2006 - Revised WQS calculation method and posted new charts
Pros
• Can achieve > 100Mbps aggregate throughput
• 100Mbps wire-speed routing
Cons
• Non-MIMO clients take big throughput hit in mixed WLANs
• Not a good wireless neighbor
• Uncompetitive routing features
• Expensive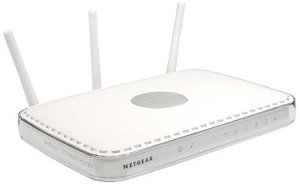 Airgo Networks rocked the MIMO world last fall with the announcement of its third generation "True MIMO" chipset that boasts a top raw speed of 240Mbps. The new speed is achieved using Airgo's Adaptive Channel Expansion technology (ACE) that the company says uses a "neighbor friendly" 40 MHz channel.
Netgear wasted no time in getting its WPNT834 RangeMax 240 (RM240) router and WPNT511 CardBus card on store shelves, but also managed to save a copy of each to send to the TomsNetworking labs. We found that the product's maximum speed was indeed impressive, topping 100Mbps under the right conditions. But we also saw behavior that does not bode well for use with mixed WLANs and, contrary to Airgo's claims, that won't be particularly welcome by wireless neighbors.
Basic Features
The RM240 comes in the same-sized white plastic enclosure as its first RangeMax router. But the frosted plastic dome that houses the annoyingly bright blue LEDs on the Gen 1 RangeMax router (that is based on antenna technology from Ruckus Wireless and a chipset from Atheros) has been replaced by a sold silver disk embossed with the Netgear logo. Instead, there are three dipole antennas that sprout from the rear panel of the RM240. All three are movable, but only one is attached via an RP-SMA connector - a combination that seemed to be an odd choice.
The backlit front panel icons are bright enough and include link/activity for the four 10/100 LAN ports and one 10/100 Internet (WAN) port. Power, WLAN activity and Test icons round out the indicators. Connectors on the rear panel include four 10/100 LAN ports, one 10/100 WAN port and a power jack. All ports are auto MDI / MDI-X which means they'll figure out how to connect to whatever you plug into them. There's also a reset-to-factory-defaults switch on the back panel in case you need it.
Ever since wireless products started specifying speeds above 100Mbps, I've been asking manufacturers as to the whereabouts of their gigabit Ethernet ports. Netgear's reply was something along the lines that the RM240 isn't intended to supply its super-speedy bit goodness on an individual port basis. Instead, the pitch is that aggregate 100Mbps+ throughput, i.e. across a number of ports, is what Netgear's intending to supply. More on this later when we walk through the Throughput testing.