---
The Pitch
Sandisk SD Wi-Fi card w/ Zire 71 support
Summary
First 802.11b adapter in SD format. For Pocket PCs with SDIO slots only!
New version available August 2004 supports Palm Zire 71
Update
6/27/2004 - Corrected information on DHCP lease problem and obtaining DNS information
Pros
• The only 802.11b SDIO card available for palmOne Zire 71
Cons
• Sub 0.5Mbps throughput
• Supported only on (discontinued) Zire 71
• Poor OS integration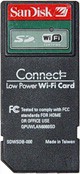 SanDisk has - at least according to their story - overcame almost insurmountable obstacles to bring the first SD Wi-Fi card that can be used with a PalmOS device to market. That's the good news.
The disappointing news is that the updated version of the SD WiFi card that should be in stores sometime next month (July 2004) supports only the discontinued Palm Zire 71.
This sole-device support will certainly limit the new card's appeal. But unfortunately, that's not the only thing that may make you want to take a pass on the product...