---
The ASUS brand is generally associated with such PC components as graphics cards and mainboards, yet the company is active in other market sectors, too. Today we'll have a look at what ASUS offers in the rapidly developing area of network technologies: we will test the WL500g Premium wireless router.
Even though a relatively new name on the market of networking devices, ASUS offers a broad model range, so each user can find a model that would meet his/her specific needs. The WL500g Premium is a new device ASUS puts many hopes into. This box contains almost every feature you may require to deploy a small computer network. You can even set up a network download center, a printer server or a public ftp-server with it. This router has come to replace the previous model, WL500g Deluxe, which was indeed a successful and popular product in itself. And it means the new model must meet at least the same requirements the old model did. There are not too many improvements in comparison with the Deluxe model at first sight: a faster processor, a larger amount of flash memory, and new features called Download Master and EZSetup.
We won't focus on the differences from the previous model, though, because it is already out of production. Our goal is to check out the functionality of the router, to test the bandwidth of its ports in different directions and to measure the coverage area of its wireless unit.
Specification
The following table lists a brief specification of the ASUS WL-500g Premium model:
Parameter

Characteristics

Wireless standard

IEEE 802.11b/g

Encoding standard

WEP, WPA, WPA2

Antenna

Internal IF (Inverted -F)- antenna
External dipole antenna

Signal modulation

OFDM, CCK, DQPSK, DBPSK

Operating frequency

2.4 - 2.5 GHz

Nominal data transfer rate

802.11g: 6, 9, 12, 18, 24, 36, 48, 54Mbps
802.11b: 1, 2, 5.5, 11Mbps

Output power

802.11g: 14~16dBm (at normal temp. range)
802.11b: 16~18dBm (at normal temp. range)

Sensitivity

-74~-75dBm@54Mbps
-87~-88dBm@11Mbps
-95~-97dBm@1Mbps
(at normal temp. range)

Operating channels

11 for N.America, 14 Japan, 13 Europe (ETSI),
3 (non-overlapping)

WAN

1 RJ-45 (10/100 BaseT) Fast Ethernet 10/100 Mb/s port
with auto-crossover function

LAN

4 RJ-45 (10/100 BaseT) Fast Ethernet 10/100 Mb/s ports
with auto-crossover function

Other interfaces

2 USB2.0 ports

Power

External power supply

Dimensions

215 x 160 x 42 mm

Additional features

Built-in FTP server
Download Master
Built-in UPnP server
EZ Setup
BroadRange
Afterburner
The package contains: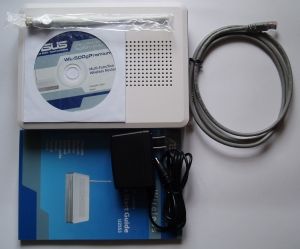 Router
User manual
Category 5 Ethernet cable
External power adapter (input: AC 100-240V, 50-60Hz; output: DC 5V, 2.5A; 0.4A consumption current)
CD with software
External antenna
Design
The router doesn't have an eccentric design, as opposed to the previous models in the WL500g series. This can be illustrated with the following photos that we took from ASUS' official website (the WL500g Deluxe is on the left; the WL500g Premium is on the right):
On the other hand, people say that all ingenious things are indeed simple. The Premium model is up to its name. It has straight, laconic lines, a light but robust case, well-fitted details, a few indicators. The WL500g Premium is cooled passively through vent holes in the top and bottom panels of the case and slits in the sides. The router doesn't suffer from the lack of a fan, though. The temperature inside the case is rather low, even lower than that of the external power adapter.