---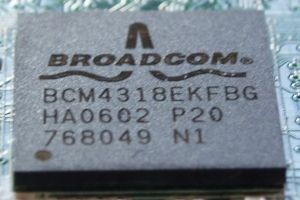 The BCM4318E is the third generation of Broadcom's single-chip wireless LAN client solutions, which combine a high-performance 2.4 GHz radio, 802.11a/g baseband processor, medium access controller (MAC) and other radio components onto a single silicon die. This high level of chip integration reduces the size, cost and power consumption of a wireless LAN module, facilitating more opportunities to integrate the popular 54g technology into networking equipment, PCs, peripherals and consumer electronic devices.
The BCM4318E also features Broadcom's new BroadRange technology, a standards-compliant hardware enhancement that extends the range of 54g-based wireless devices. It uses advanced signal processing techniques to provide the industry's best receive sensitivity and optimize transmit power control, enabling Wi-Fi users to maintain high-speed wireless connections at up to 50% further from an access point.
Features:
First client solution to include BroadRange technology, extending the range of wireless devices.
Offers industry's best receive sensitivity (Greater than -73dBm at 54 Mbps)
Reduces transmit power by 30% to extend the battery life of today's Wi-Fi devices and enable a variety of new Wi-Fi platforms with strict power requirements.
Supports 125 High Speed Mode and Secure EZSetup software, Broadcom's industry-leading performance and ease-of-use features (but partners have the option of implementing these features).
This Release Support these Device IDs:
PCI\VEN_14E4&DEV_4303, PCI\VEN_14E4&DEV_4320, PCI\VEN_14E4&DEV_4318
PCI\VEN_14E4&DEV_4311, PCI\VEN_14E4&DEV_4321, PCI\VEN_14E4&DEV_431A,
PCI\VEN_14E4&DEV_4324, PCI\VEN_14E4&DEV_4319, PCI\VEN_14E4&DEV_4312,
PCI\VEN_14E4&DEV_4310, PCI\VEN_14E4&DEV_4313, PCI\VEN_14E4&DEV_4328,
PCI\VEN_14E4&DEV_4329, PCI\VEN_14E4&DEV_432A
Broadcom BCM94318MPG Mini PCI Windows Driver:  Download 1, Download 2 (9.2MB)