---
Routing Features
The AG has a few features that I haven't seen in previous Buffalo routers. But in order to focus on the wireless aspects of the product, I'll just summarize the key routing features here.
The Setup page (Figure 8) that you see when you first log into the AG provides a peek at some of the unique capabilities.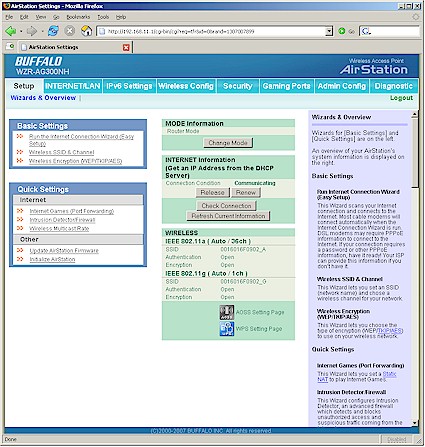 Figure 8: Setup page
Router and AP mode - You can switch between modes using either the hardware switch on the back of the router, or using the Change Mode button on this page. Using the AP Mode hardware switch changes the default IP address from 192.168.11.1 to 192.168.11.100 and disables the DHCP server and NAT routing. You use the WAN port, however, to connect the AG to your LAN. Using the software method does all the above, but lets you define the AG's IP address.
IPv6 - This protocol, which will be the way we all connect someday. But for now, these controls will be useful if the AG finds its way into U.S. military use, or by users outside the U.S. (The Department of Defense (DoD) is driving toward establishing IPv6 in all its Internet and intranet systems by fiscal year 2008.)
NAT and routing - You can disable NAT, set static routes and control RIP1 and 2 transmit and receive
Dynamic DNS clients - Clients for Dyndns.org and TZO.com are included
QoS - Eight applications can be assigned high, medium or low priority for LAN to WAN packets. This will help manage the relatively paltry uplink bandwidth that most of us get from our ISP. But it won't help keep your kids from sucking up downstream bandwidth with their insatiable appetite for huge downloads.
Firewall filters - You get both inbound and outbound filters that are defined separately for IPv4 and IPv6.

What you don't get:
Some Firewall controls - Functions that would be useful, but are missing, are the ability to disable the firewall SPI functions and blocking of cookies, ActiveX and Java applets and web proxies.
Secure remote access - Remote access is HTTP only, and you can restrict access to only a single IP and set the port.
Admin idle timeout adjust - One of my personal annoyances. The timeout appears to be fixed at around 5 minutes.