---
Internal details
The AG's Marvell-based board looks like it is expecting some heat to be generated. Figure 4 shows that the Marvell 88F5181 processor (center left), 88E6131 gigabit Ethernet switch (bottom left) and two 88E1112 gigabit tranceivers (bottom right) all have heatsinks.
The label on the (5 GHz band) radio module is apparently for an alternative design, since the AG has two radios, with the second (2.4 GHz band) module mounted on the bottom of the board (see Figure 5).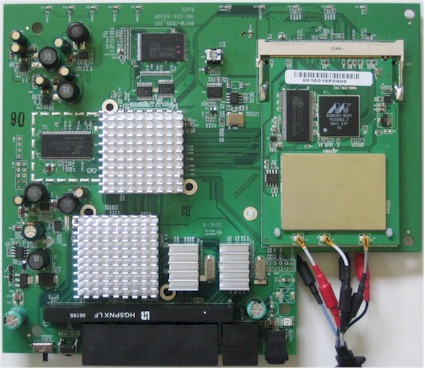 Figure 4: Main board top
The gigabit switch chip must run really hot, since it has a heat spreader (The black metal plate at bottom right) on the bottom of the board as well as the heatsink on the device itself.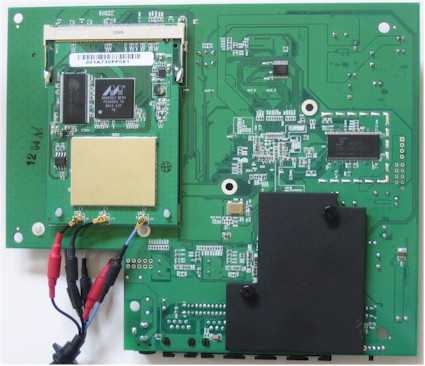 Figure 5: Main board bottom
Figure 6 shows the single-band radio module without its shield. Both modules use the same Marvell 88W8363 MAC/Baseband chip, which I assume is an enhanced version of its TopDog 88W8360, and 88W8060 2.4 / 5 GHz RF Tranceiver.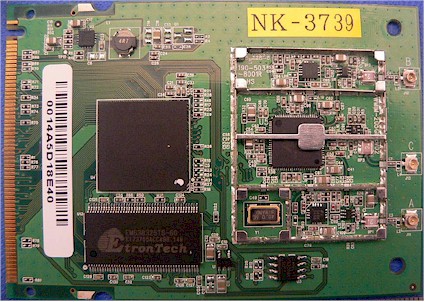 Figure 6: Mini-PCI radio module
Figure 7 shows the board of the AG's companion WLI-CB-AG300N Cardbus card. The MAC/Baseband chip markings are blacked out, but you can see the Marvell logo on the center chip under the shield fencing. It also uses the 88W8363 and 88W8060.

Figure 7: CardBus board