---
Introduction and Product Details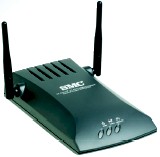 SMC EZ Connect g 2.4GHz Wireless Ethernet Adapter
Summary
PRISM based 802.11g multimode device. Can operate as bridge or AP with WDS-based bridging.
Update
12/20/2003 - Removed references to supporting WPA in AdHoc mode
Pros
• Can run as an AP with WDS-based bridging / repeating or wireless Bridge
• Supports WPA in bridge mode
Cons
• Firmware load required to switch between AP and Bridge modes
• Non-upgradeable antennas
• WPA in Bridging mode not robust
SMC's SMC2870W is a product that seems to be having an identity crisis. The silkscreen on the product says "EZ Connect g 2.4GHz 54Mbps Wireless Ethernet Adapter SMC2870W", but its User Manual, web page and product brochure refer to it by that moniker and also as a "Wireless Ethernet Bridge".
In fact, the 2870W can function as an 802.11g access point that supports WDS-based wireless bridging and repeating. But it also functions in what SMC calls "Bridge" mode, but which functions more like an 802.11g Ethernet adapter capable of operating in Infrastructure and Ad Hoc modes.
The 2870W comes in a plastic SMC-grey enclosure with a footprint slightly smaller than a VHS cassette, sloped front and sides, and mounting screw slots on its bottom. The PWR, wireless Tx / Rx, and Ethernet Link / Act indicators are on the sloped front of the box and are somewhat dim when viewed when the unit is sitting on a shelf at eye-level. Power and 10/100 Ethernet connectors and a Reset / Reset-to-Defaults switch are all on the rear panel.
Tip: The 2870W's Ethernet connection does not support auto MDI / MDI-X, nor does it have a Normal / Crossover switch, so setup can require some experimentation depending on the mode you're using and what you're connecting to. SMC thoughtfully includes a crossover cable (although it's not identified as such), but not a normal UTP cable.
The product is based on Ubicom's IP2022 Network Processor and uses a AirVast Technology WN360g mini-PCI radio based on Intersil / GlobespanVirata / Conexant's PRISM GT chipset (Figure 1).
Figure 1: The radio
(click on the image for a full-sized view)
The radio is connected to two hard-wired external dipole antennas, but since the antennas connect to the board via miniature connectors, die-hard hackers could always rig up higher-gain substitutes.
Examination of the board revealed that the 10/100 Ethernet connector is wired to support Power over Ethernet (PoE) use, although SMC neither specifies nor supports this option.