---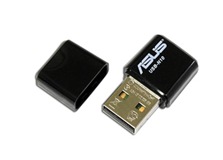 USB-N10 is the shortest wireless USB adapter all over the world, boasting a 3 cm body length makes it very easy to carry and thereby greatly reducing the use of space. Compare to most of the USB Wi-Fi adapters, it is not only superior in its 3 cm pocket size but also in its unplugging-free design. Strengthened one-piece shape, robust mounting force and tiny size design, when you like to put NB into carry bag you don't get hassled to remove it over and over again. Go freedom of connection from ASUS USB-N10!
Asus USB-N10 Wireless Network Adapter is based on Realtek RTL8192SE USB Wireless chipset.
Device Name: ASUS EZ N 802.11b/g/n Wireless USB Adapter 

Hardware ID: USB\VID_0B05&PID_1786
Download ASUS USB-N10 driver for Windows 2000, XP, Vista, Win7,
Download 1, Download 2 (2.17MB, 2012.03.02 update, v.1086.38.1125.2010)
Support Windows 2000, XP 32/64bit, Vista 32/64bit, Windows 7 32/64bit.
ASUS USB-N10 wireless utility for Windows 2K/XP/Vista/Windows 7,
Download 1, Download 2 (27.06 MB, 2012.03.02 update, Version 1.0.0.14v3 )
---
ASUS USB-N10 driver for MAC OS 10.4/10.5, 2.1 (MBytes), 2009/11/05 update. Download
ASUS USB-N10 driver for Linux kernel 2.4/2.6, 1.79 (MBytes), 2009/11/05 update. Download
[Original from ASUS]