---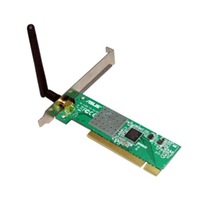 Asus WL-138gE Broad Range Wireless PCI Adapter provides an option for desktop PC users to optimize wireless LAN connectivity. The Asus wireless IEEE802.11g PCI Adapter is ready to run in any PCI-equipped desktop PC. With WL-138gE Wireless PCI Adapter, users may easily upgrade their desktop PCs to WLAN client station, which have users on the network without restriction.
Device Name:
"ASUS 802.11g Network Adapter" or "802.11g Network Adapter"
Supported Device ID:
PCI\VEN_14E4&DEV_4320&SUBSYS_100F14E4
PCI\VEN_14E4&DEV_4320&SUBSYS_120F14E4
PCI\VEN_14E4&DEV_4320&SUBSYS_103F14E4
PCI\VEN_14E4&DEV_4320&SUBSYS_100F1043
PCI\VEN_14E4&DEV_4320&SUBSYS_120F1043
PCI\VEN_14E4&DEV_4320&SUBSYS_103F1043
PCI\VEN_14E4&DEV_4320&SUBSYS_100E1043
PCI\VEN_14E4&DEV_4318&SUBSYS_100F1043
PCI\VEN_14E4&DEV_4318&SUBSYS_120F1043
PCI\VEN_14E4&DEV_4318&SUBSYS_103F1043
PCI\VEN_14E4&DEV_4318&SUBSYS_100E1043
The ASUS WL-138gE PCI Card driver for Win98SE/WinME/Win2K/WinXP:
Download, Version 3.100.64.0, File Size: 926.97 (KBytes), 2004/11/16 update.
Asus WL-138g v2 and WL-138gE driver for WinXP 64bit:
Download 1, Download 2. (268.39 KBytes, 2008/07/21 update.)
The ASUS WL-138gE PCI Card driver for Windows Vista-32bit/64bit,
1. Please run Setup.exe before plugging into the WLAN card.
2. The Vista driver does not support Afterburner function.
Download 1, Download 2,  [ 2.26 (MBytes),Version v4.102.15.56]
The ASUS WL-138gE PCI Card Wireless Utility Progrm for Windows, version 2.8.8.7,
1. Add WPA2 support. 2. Add Afterburner setting in Advanced tab.
Download 1, Download (File Size: 8.78MB, 2006/03/08 update)
ASUS WL-138gE driver for Windows 7 32/64bit, Version 5.60.18.41:
Download 1, Download 2, File Size: 14.52 (MBytes), , 10/23/2009