---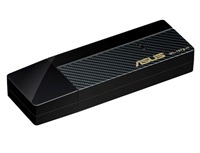 ASUS WL-167G V3 Wireless USB Adapter, 150Mbps High Speed Transmission (Realtek RTL8192S chipset based Wireless USB 2.0 Network Adapter).
EZ N First-class Performance
The ASUS WL-167G V3 provides superior wireless performance for your PC compared to legacy wireless 802.11g technology. The 150Mbps wireless speed can deliver consistent HD quality data streaming. In addition to providing better bandwidth and coverage, the 802.11n standard it's also backward compatible with 11g and 11b networks, ensuring existing networking hardware can be fully utilized.
Multiple OS Support
WL-167G V3 allows you to easily enjoy wireless networking over various platforms. It is compatible with common operating systems such as Windows, Linux, Mac, and even the newest Windows 7 OS.
Enhanced Reception
Adjust the WL-167G V3 position to get best performance, strong signal and better sensitivity with the adjustable USB extension cable.
PSP Xlink Kai Support
The WL-167g V3 delivers PSP Xlink connection support. You can play system-link games over the Internet rather than just over your LAN while on-the-move.Click Here for setup Instruction (http://event.asus.com/networks/xlink/).
Device Name: ASUS WL-167G V3
Hardware ID: USB\VID_0B05&PID_1791
WL-167G-V3 driver v1.0.0.2 for Win2k/WinXP 32bit&64bit/Win Vista 32bit&64bit/Win 7 32bit/64bit:
Download 1, Download 2, Download 3 (2.21MB, 2010/07/08 update.)
WL-167G-V3 driver v1.0.0.2 for Mac OS:
Download 1, Download 2 (3.57MBytes,2010/07/08 update)
Asus WL_167G V3 Quick Start Guide in multiple languages: Download
[From Asus Official]