---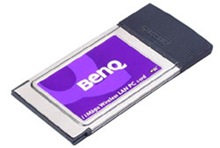 The AWL100 Wireless LAN PC Card lets you connect to your network and the Internet without needing to be tethered to a fixed location by a physical cable, while still getting the same data transfer rates as with traditional Ethernet. In addition to allowing you to enjoy the wonders of wireless networking, the AWL100 provides two operating modes - ad-hoc mode (peer-to-peer) and infrastructure mode (station-to-AP) - to meet to your varying needs at different purposes.
Device Name: BENQ AWL100 Wireless LAN PCMCIA Adapter
Hardware ID:
PCMCIA\BENQ-AWL100_PCMCIA_ADAPTER-DAA2
PCMCIA\Benq-AWL100_PCMCIA_ADAPTER-9810
Benq AWL100 802.11b Wireless LAN PC Card Windows Drivers, Utility:
awl100_1.0.1.exe:  10.9 MB, 2006-08-28
Support Windows 98, ME, 2000, XP.