---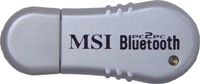 MSI Bluetooth USB Dongle provides wireless technology that revolutionizes personal connectivity. It is the solution for the seamless integration of Bluetooth technology into personal computers, enabling short-range wireless connections between desktop/laptop computers, Bluetooth-enabled peripherals (printers, faxes,...), portable handheld devices, and connectivity to the internet.
H/W Interface: USB 1.1
Standard Compliance: Bluetooth Ver.1.2
Throughput: About 723Kbps (data channels)
Operating Volt. 5V from USB interface
Operating Range: 10M
Support Bluetooth profiles
-Generic Access Profile (GAP), -Service Discovery Application Profile (SDAP), -Serial Port Profile(SPP), -Dial-Up Network Profile(DUN), -FAX Profile, -File Transfer Profile (FTP), -LAN Access Profile(LAP), -Object Push (OPP),
-Generic Exchange Object Exchange Profile(GEOP), -Headset Profile(HSP), -Hardcopy Cable Replacement Profile(HCRP),  -Human Interface Device Profile(HID); -Synchronization Profile; -Personal Area Network Profile (PAN)
Update Date: 2006-03-03
MSI BToes (MS-6970) Bluetooth USB Dongle Windows 9X/Me/2000/XP 32bit Driver, Software:
For BToes ver.254:  Downlaod 1, Download 2 (File Name: Btoes_V2.54.zip, 22453KB)
For Btoes ver.254-CI: Download 1, Download 2 (File Name: BlueSoleil_1.6.2.1.exe, 26611KB)
OS: Win Server 2003/WinXP SP1,SP2/2000/ME/98SE,
Support: NOKIA PC suite ver. 6.5 or above, Update Date: 2005-06-29
---
Microsoft Bluetooth Stack for Windows Vista:
Support Model: BTHUB, BToes(MS-6970), MS-6967, MS-6971, Btoes 2.0 ver.476-CI.
OS: Windows 32/64bit Vista
Download 1, Download 2 (Update Date: 2007-03-19)
Important Note: Please don't install the previous MSI Bluetooth Software Package if your OS is Windows Vista.
The Windows Vista supported the profile: HCRP,DUN, HID, SPP, OPP, PANU(noted: Do not support AV profile, and Headset)