---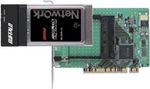 Features:
- Desktop PC environment to achieve 11Mbps Wireless LAN PC Card Type II removable card for PCI bus board
- IEEE802.11b wireless LAN standard protocol, 11Mbps high-speed transmission speeds.
- High-speed, wireless LAN environment is achieved with the desktop personal computer.
- The Lucent technology can be adopted for the core technology, and it connect it with 2Mbps model.
- 11Mbps card replacement of the upgrade of the firmware of the access point and 2Mbps installed card is necessary when connecting it with the access point made of our company 2Mbps.
- High noise-proof is achieved by Spectrum diffusion method (DS-SS) adoption.
- An excellent communication quality is secured by adopting the built-in diversity antenna.
Buffalo WLI-PCI-L11 802.11b Wireless PCI Adapter Windows 98/2000/XP Drivers:
Download (1.65 MB, 04/26/2002, V.7.62.0.315)
Supported Device Hardware IDs:
PCMCIA\MELCO-WLI-PCM-L11-189B
PCMCIA\BUFFALO-WLI-PCM-L11G-4445
PCMCIA\BUFFALO-WLI-PCM-L11G-UK-1ED7
PCMCIA\BUFFALO-WLI-PCM-L11G-US-A11C
If you need Buffalo Wireless Utility (Client Manager 3):  Download