---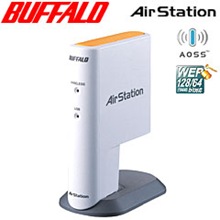 The AirStation Wireless USB Adapter consists of both LAN functions and radio functions. This WLAN USB Adapter connects to the client PC (notebook or desktop) through the USB port.
FEATURES:
Supports 802.11b standard and sustains 11Mbps high speed data transmission rate;
Compact antenna;
Wi-Fi Certified;
Supports peer-to-peer communication or Infrastructure mode with any AccessPoint;
Supports 128(104)/64(40)bit WEP, WPA-PSK(TKIP);
USB 1.1, Plug-and-Play ready.
Device Name: BUFFALO WLI-USB-B11 Wireless LAN Adapter
Hardware ID: USB\VID_0411&PID_004D
Buffalo AirStation WLI-USB-B11 Wireless Adapter Windows XP/2000/Me/98SE Drivers:
Download ( 850KB, 06/27/2007, Ver.3.0.5.2 ).