---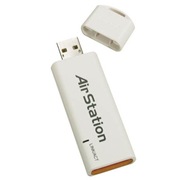 Buffalo's 802.11b Wireless USB "Keychain" Adapter is a sleek and convenient way to add Wireless Networking through any available USB port on your PC. The AirStation Wireless USB Key consists of both LAN functions and radio functions. This compact receiver connects to the client PC (notebook or desktop) through the USB port.
FEATURES:
Supports IEEE802.11b standard and sustains 11Mbps high speed data transmission rate;
Compact antenna;
Wi-Fi Certified;
Supports peer-to-peer communication or Infrastructure mode with any AccessPoint;
Supports up to 128-bit Wired Equivalent Privacy (WEP);
USB 1.1, Plug-and-Play ready.
Device Name: BUFFALO WLI-USB-KB11 Wireless LAN Adapter
Hardware ID: USB\VID_0411&PID_0044
Buffalo AirStation WLI-USB-KB11 Wireless Adapter Windows XP/2000/Me/98SE Drivers:
Download ( 850KB, 06/27/2007, Ver.3.0.5.2 ).