---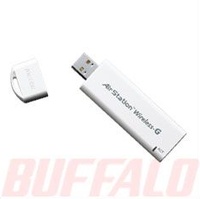 Portable Plug and Play Wireless USB Solution for Notebook or Desktop Users!
Buffalo Wireless-G USB 2.0 Adapter offers a sleek and convenient way to add high-speed wireless connectivity through an available USB port on your Windows PC. Desktop users can easily connect via the USB port without the need to open the PC case and install a PCI Card. Mobile users are offered a quick and portable way to connect without taking up a PC Card slot. The added benefit of the client manager software offers genuine plug and play solution to end users. The AirStation One-Touch Secure System™ (AOSS™) provides a quick and easy way to create a secure wireless access on multiple platforms within minutes. USB extension cable is included with this keychain adapter for versatile connections. Stylish design and compact size makes the USB keychain adapter the ultimate portable wireless client solution.
Device Name: BUFFALO WLI-U2-KG54L Wireless LAN Adapter
Hardware ID: USB\VID_0411&PID_00DA, USB\VID_0411&PID_0100
Buffalo WLI-U2-KG54L Wireless USB Key Adapter Windows Driver, Utility:
Download Buffalo WLI-U2-KG54L Win2000/XP/Vista/Win7 Drivers (10/27/2009, V2.2.0.33).
The driver also valid for BUFFALO WLI-UC-AG Wireless LAN Adapter (Hardware ID: USB\VID_0411&PID_00F3)
File
Post Date
Version
OS Support
Notes
download
16.8MB
15-May-07
9.01
Windows
Vista
Client Driver Installer
Download Buffalo Wireless Client Manager Utilities:
File
Post Date
Version
OS Support
Notes
download
2.11MB
09-Jul-07
1.20
Windows® Vista™
Client Manager V (Only Vista™ OS)
download
2.84MB
10-Oct-06
1.00
Windows
XP / 2000 / 98SE
Client Manager 3
(English)