---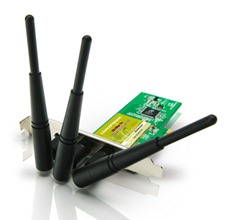 Conceptronic C300EXI PCI-Express Card supports higher data rates up to 300Mpbs when connected to a wireless 802.11n device. With this 300Mbps PC Express card it is possible to connect a notebook to a wireless 300 Mbps network.
A range that is up to 14 times faster and up to 6 times more efficient than 54G;
Fully compatible with 802.11b (11Mbps) and 802.11g (54Mbps);
Security : WPA2 / WPA / WEP / WPS;
Conceptronic C300EXI 300Mbps 11n PCI-Express Card is based on the Ralink RT2860 series Wireless chipset.
Device Name: Conceptronic 300Mbps 11n PCI-Express Card
Hardware ID: PCI\VEN_1814&DEV_0681&SUBSYS_3C861948
Conceptronic C300EXI 300Mbps PC Express Card Windows 2000/XP/Vista/Win7 Drivers, Utilities:
Download Here [Ralink generic driver]
Support O/S: Windows 2000, XP 32/64bit, Vista 32/64bit, Win 7 32/64bit;
Update Date: 01/18/2011.  Version: 2K/XP:3.1.14.0; Vista:3.1.14.0; Win7:3.1.14.0