---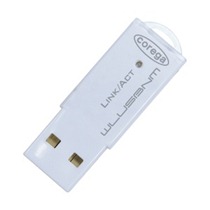 Overview:
Corega CG-WLUSBNM is a high-gain wireless USB adapter which provides a simple and easy way to add or upgrade wireless connectivity to your desktop or notebook computer. Corega CG-WLUSBNM supports higher data rate of up to 150Mbps when connecting with wireless 802.11n device which is 3 times faster than your normally 11g connection.  Supports 64/128-bit WEP, WPA , WPA2 encryption and WPS-compatible.
Corega CG-WLUSBNM  is based on the Realtek RTL8188 series WLAN USB chipset.
Hardware Info:
Device Name:  CG-WLUSBNM
Hardware ID: USB\VID_07AA&PID_0047
Corega CG-WLUSBNM 150M Wireless USB Adapter Windows XP, Vista,Win7 32/64bit Drivers, Software:
Download (from Corega official,  Ver1.01.01.PL0, Release date: 2010/03/23)
You can also use lateset Realtek RTL8188SU series generic driver and software for Corega CG-WLUSBNM.
Corega CG-WLUSBNM Drivers, Software for Mac OS: Download [from Realtek]