---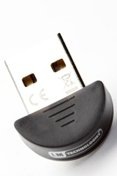 This Nano Bluetooth USB Adapter eliminates the need for cables between your computers and other Bluetooth devices. This is Bluetooth Class 2 with a range of up to 40m. This adapter creates a wireless link over Bluetooth. The small form factor and intuitive installation and setup provides an ideal solution. This supports: internet access, transfer of data files, images, stereo audio, VOIP.
Chipset: Broadcom 2046
Software: Widcomm V5 and V6
Standard: Bluetooth+EDR
Range: Up to 40m free air (Class 2)
Bandwidth: up to 3Mbps
Bluetooth profiles: 17 available
Operating System: Windows 98SE, ME, 2000, XP, Vista and Mac OS X or later
Certification: CE,FCC, RoHS
Download LM-Technologies LM505 Bluetooth Nano USB Adapter Windows Driver, Software:
LM505 XP 5.5.0.3200 Vista_7 6.2.1.0100 (Supports Win98, 2000, XP, Vista, Win7), 89MB.
LM505 Vista driver, (Supports Windows Vista, Window 7), 44MB
LM505 XP Driver, (supports Windows 98, 2000, XP), 42MB.
Supported Device Hardware IDs:
USB\VID_0A5C&PID_200A; USB\VID_0A5C&PID_2009; USB\VID_0A5C&PID_201E
USB\VID_0A5C&PID_2020; USB\VID_0A5C&PID_2045; USB\VID_0A5C&PID_2110
USB\VID_0A5C&PID_2100; USB\VID_0A5C&PID_2101