---
The Network and Sharing Center in Microsoft Windows Vista* can be used to create a secure Wi-Fi network profile. A Wi-Fi profile is used to configure connections to different access points (AP) or broadband Wi-Fi routers.
Create a Secure Wi-Fi Network Profile
Follow these steps to create a secure wireless network profile from the Network and Sharing Center.
1. Access the Network and Sharing Center using Start » Network » Network and Sharing Center or another method.
2. Select Manage wireless networks.
3. Click Add.
4. Select Manually create a network profile.
Note
Many network names, known as SSIDs, have security enabled. Connecting to these networks requires that the user know the correct passphrase or preshared key.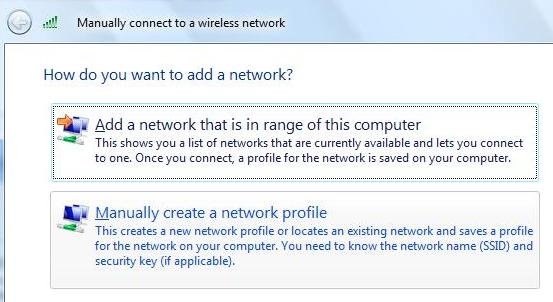 5. Enter the network name. This example uses a network named wireless-n.
6. Select the security type.
7. Select the encryption type.
8. Enter the security key or passphrase.