---
Note
It is not recommended that you select Display characters because this selection will allow anyone around you to see the characters and will compromise network security.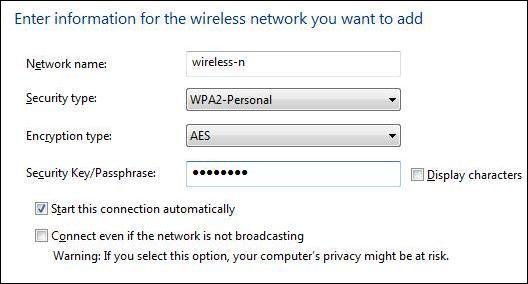 9. Select Start this connection automatically if you would like to use this network when using Wi-Fi.
10. Click Next.
11. Select Connect to....

The wireless profile should now be connected to the AP or broadband Wi-Fi router.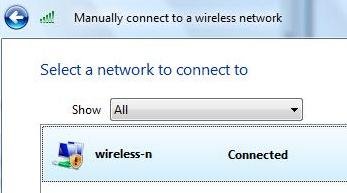 If you return to Manage wireless networks at this point, you will see that wireless-n is now listed.


Access the Network and Sharing Center
To access the Network and Sharing Center, use one of the following methods:
Start » Control Panel » Network and Internet » Network and Sharing Center
Start » Network » Network and Sharing Center
Right-click the network system tray icon (the icon that displays two computer monitors) » Network and Sharing Center