---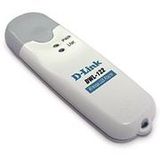 The DWL-122 is Wi-Fi compliant, meaning that it can connect and interoperate with other 802.11b Wi-Fi-compliant wireless routers, access points, and adapters. The DWL-122 connects to any available USB port on a laptop or desktop Windows and Macintosh-based computer and also includes a standard USB extension cable. With its USB extension cable (included) the DWL-122 can be positioned virtually anywhere at a workstation to achieve the best available wireless signal reception - whether that workstation is in your office, on your deck or patio, by the pool, at the local coffee shop, or in an airport terminal while waiting to board your next flight.
Note: The D-Link DWL-122 adapter have two hardware version.
1. For D-Link Air DWL-122:
Device Name: D-Link Air DWL-122 Wireless USB Adapter
Hardware ID: USB\VID_2001&PID_3700
D-Link Air DWL-122 Drivers and utility for Windows 98SE, 2000, Me, and XP: Download (ver 1.01);
WHQL for Windows XP and Windows 2000 : Download (ver 1.02);
Driver For Mac OS:

Driver
Version
Revision Info
Date
1.32
For Mac OS X (10.2.x & 10.3.2) only
Includes uninstaller (removes prior installations)
10/3/2003
Download
1.00
For Mac OS X (10.2.x - Jaguar) only
7/25/2003
2. For D-Link Air DWL-122 (rev.B):
D-Link Air DWL-122 is based on the SiS162U 802.11b Wireless LAN chipset.
Device Name: D-Link Air DWL-122 Wireless USB Adapter(rev.B)
Hardware ID: USB\VID_2001&PID_3500
D-Link Air DWL-122 Wireless USB Adapter(rev.B) Windows 98,ME,2000,XP Driver, Utility:
Download (11.9MB, Ver.1.05)