---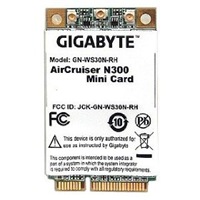 Gigabyte new N300 miniCard module WS30N, which is fully compliant with 802.11n standard. With the advanced MIMO (Multi-In, Multi-Out) technology, WS30N delivers 5 times faster data rate as well as 6 times longer coverage than 802.11g techonology. Wi-Fi Multimedia (WMM) supports higher audio/video priority for media streaming. WS30N is fully 2.4 GHz interoperable,which connects seamlessly to both 11g and 11n wireless traffic; it's dynamic speed-adjustment feature will always link to the highest possible speed – up to 300Mbps.
Gigabyte GN-WS30N is based on Ralink RT2860 series wireless chipset.
Device Name: Gigabyte GN-WS30N 802.11n mini WLAN Card
Device ID: PCI\VEN_1814&DEV_0681&SUBSYS_E9391458
Download Gigabyte GN-WS30N-RH 802.11n mini-PCIe Card Windows Drivers, Utility:
Date
Description
Version
Size
2009/08/17

WI/WS/WP Series

STA UI version: V.1.3.1.0.17 (For 2K/XP/XP64)
AP UI version: V.1.0.7.0.12 (For 2K/XP/XP64)
Driver version: D.1.3.0.0 on 2K/XP/XP64 , D2.2.0.0 on VistaX86/VistaX64
Release Date: 2008/12/11
SoftAP Utility: APUI.exe




Download from

:  Asia   Asia(China)   America   Europe   

O.S. : Windows 2000,Windows XP 32bit,Windows XP 64bit,Windows Vista x86 (32-bit),Windows Vista x64 (64-bit)
v.1.3.1.0.17
13.77 MB
The driver also support "Gigabyte GN-WS30HN 802.11n dual-band mini WLAN Card" with hardware ID "PCI\VEN_1814&DEV_0681&SUBSYS_E93A1458"
[Original from Gigabyte]