---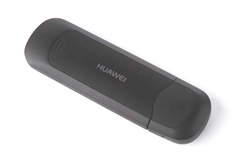 In the service area of the HSDPA/UMTS/EDGE/GPRS/GSM network, you can browse Internet, send/receive messages/emails and voice connections. The E1550 is fast, reliable, and easy to operate. Thus, mobile users can enjoy many new features and services with the E1550. These features and services can enable a large number of users to use the E1550 and increase the Average Revenue Per User (ARPU) of operators substantially.
Huawei E1550 Modem Specifications
HSDPA/WCDMA 2100MHZ
GSM/GRPS/EDGE 850/900/1800/1900MHZ
HSDPA data transfer speed up to 3.6Mbps
USB interface
install automatically and easy to use
Micro SD memory card slot(up to 4GB)
size:70.1mmx25.7mmx 11.6mm
weight:50g.
HUAWEI E1550 HSDPA/WCDMA USB DataCard Windows/Mac OS Driver, Connection Software:
Windows/Macintosh Drivers Version 11.300.05.16.134_MAC11.303.06.06.134 (ZIP, 14.4MB)
Hotfix for Windows Vista SP2 (ZIP, 1.2MB)