---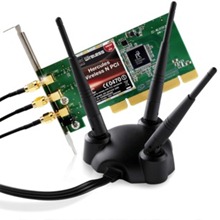 Features:
PCI card for desktop PCs.
300 Mbps maximum bandwidth.
Station featuring 3 built-in antennas to enhance signal reception and emission.
Compatible with available WiFi standards (802.11b, 802.11g, 802.11n)
Product certified by the WiFi Alliance.
Maximum WPA2/WPA security preventing any malevolent intrusions on the network.
MultiMedia (content broadcasting) features optimised thanks to WiFi MultiMedia technology
Device Name: Hercules Wireless N LAN (HWNP-300)

Hardware ID: PCI\VEN_1814&DEV_0601&SUBSYS_00601681
Hercules HWNP-300 Wireless N PCI Card Windows XP, Vista, Win7 Drivers & Utility,
Download (22 MB, Version: V3.7)
Support Windows XP 32/64bit, Vista 32/64bit, Windows 7 32/64bit.
Installation procedure:
1- First, uninstall the previous version of your drivers or your Hercules WiFi Station N utility by clicking Start, Programs (or All Programs ), Hercules, WiFi Station N and Uninstall WiFi Station N.
2- Download the new drivers for your Hercules Wireless N device: Click the download link.
3- Once the download is complete, double-click the installation (.exe) file and follow the instructions provided to install the new version.
[ From Hercules ]