---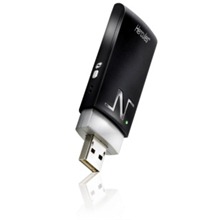 Bandwidths reaching 300 Mbps and network connection at the push of a button.
Features:
Based on the new WiFi 802.11n standard, this USB key offers bandwidths reaching 300 Mbps
A 300 Mbps bandwidth enables users to broadcast HD movies and music featuring a 5.1 mix, to surf the Internet and play online games simultaneously, without lag.
Optimum and enhanced coverage thanks to MIMO technology and the new 802.11n standard, even with 802.11g routers or boxes.
The capacity to establish an optimised connection to any home WiFi network or WiFi Hotspot.
Device Name: Hercules Wireless N USB (HWNU-300)

Hardware ID: USB\VID_06F8&PID_E030, USB\VID_06F8&PID_E050
Hercules HWNU-300 Wireless N Adapter Windows XP, Vista, Win7 Drivers & Utility,
Download (30 MB, Version: 3.0)
Installation procedure:
1- First, uninstall the previous version of your drivers or your Hercules WiFi Station N utility by clicking Start, Programs (or All Programs ), Hercules, WiFi Station N and Uninstall WiFi Station N.
2- Download the new drivers for your Hercules Wireless N device: Click the download link.
3- Once the download is complete, double-click the installation (.exe) file and follow the instructions provided to install the new version.