---
Introduction
NOTE: This information reflects our test procedures for wireless products tested in November 2005 and later. For wireless products tested before October 1, 2003, see this article. For wireless products tested after October 1, 2003 and before November 2005, see this article.
In late 2005, I moved into a new home and had to establish new test locations. Since this essentially wiped the slate clean in terms of being able to compare wireless test results going forward to those from my previous reviews, I also decided to establish new test methodology and add a scoring system.
My 3300 square foot two-level home is built on a hillside lot with 2x6 wood-frame exterior walls, 2x4 wood-frame sheetrock interior walls, and metal and metalized plastic ducting for the heating and air conditioning system. The Access Point (AP) or wireless router is placed on a four foot high non-metallic shelf away from metal cabinets and RF sources.
Figure 1 shows a simplified layout of the lower level and two of the five test locations.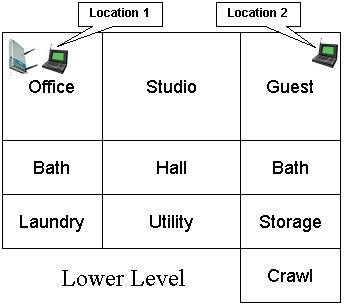 Figure 1: Lower Level Test Locations
Note that the Laundry, Utility, Storage and Crawl(space) areas are below grade, but the rest of the rooms on the lower level have daylight access. Figure 2 shows the upper level layout and the other three test locations.