---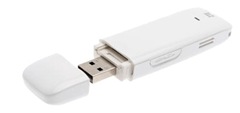 Before you insert the ZTE USB modem into the USB port, please ensure that:
AutoPlay is enabled.
The 'User Access Control' is enabled.
If AutoPlay is disabled, please see How do I install the ZTE MF636 on Windows Vista or Windows 7 with AutoPlay disabled?.
To install the ZTE USB modem, you'll need to do the following:
Plug the ZTE USB modem into the USB port. Windows detects the USB Modem as a USB Mass Storage Device and installs the drivers automatically:

Note: The ZTE USB modem is in 'cdrom' mode.
Once the device driver software installation is complete, the following tooltip is displayed:

AutoPlay automatically prompts you to Run autorun.exe.
Click on the Run autorun.exe link:

An Account Control dialog is displayed, stating that 'A program needs your permission to continue'.
Click on the Yes button.
The BT Access Manager Setup Wizard is displayed: 

Follow the on-screen instructions.
*** ZTE MF636 Windows 7 driver and software, Download Here.