---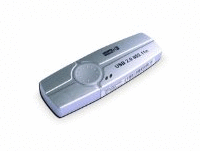 Sabrent USB-802N Wireless 802.11n USB 2.0 Wifi MIMO adapter,
It is also compatible with the older wireless 802.11b and 802.11g network. The N Wireless USB Adapter connects your desktop or notebook computer to a wireless network. With the advanced MIMO technology, it can support the data transmission rate 6 times more (up to 300Mbps) and the coverage 3 times more than IEEE 802.11b/g devices.
Features:
802.11n Wireless LAN Mini USB Adapter;
Compatible with the 802.11n/g/b wireless standards;
Provides further coverage, less dead spot and higher throughput (Up to 300Mbps) with MIMO technology.
Sabrent USB-802N Wireless Adapter Windows 2000, XP, Vista, Win7 Drivers & Utility,
Download (30.2MB, 12/01/2009)
Support Windows 2000, XP 32/64bit, Vista 32/64bit, Win 7 32/64bit
[ Version: 2K/XP:1.4.12.0, Vista:2.3.11.0, Win 7:3.0.11.0 ]
Sabrent USB-802N Wireless Adapter Drivers, Utility for Mac OS 10.3/10.4/10.5/10.6,
Download,  (V2.0.1.0, 10.0MB, 12/31/2009)
Sabrent USB-802N Wireless Adapter Linux Driver: Download
[ From Sabrent ]