---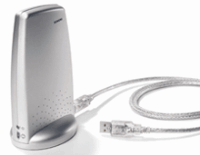 I-Gate 11M USB is the external interface for the PC or notebook to the new generation. The handy and stylish I-Gate 11M USB takes over the function of the PC network card. With a handle it is plugged into an available USB port of your PC, load the software into the PC and now he works as a mobile port on your wireless PC network. I-Gate 11M 11M USB is compatible with all other I-Gate components. In ad-hoc mode allows the use of mobile USB ports and the establishment of a temporary ad-hoc network, eg during workshops, projects or meetings. The I-Gate 11M USB Mobile Port has an integrated antenna in the casing, thus ensuring stable data transfer. Thanks to authentication, encryption (WEP) and MAC address filtering, high security is ensured. The Mobile USB Port automatically selects the fastest connection in the radio network as well as the optimal data transfer speed of 11 Mbps, 5.5 Mbps, 2 Mbps or 1 Mbps.
Wireless standards: IEEE 802.11 and IEEE 802.11b
Radio Frequency: 2.4 to 2.484 GHz (ISM)
Radio Modulation: (DSSS Direct Sequence Spread Spectrum)
Radio bit rate: 11 Mbps, 5.5 Mbps, 2 Mbps, 1 Mbps (Automatic Rate Selection)
I-Gate 11M USB Adapter is based on the Agere chip.
Device Name: I-GATE 11M USB Card
Hardware ID: USB\Vid_0681&Pid_0012
SIEMENS I-Gate 11M USB Adapter Windows 98/ME/2000/XP Drivers, Utility: Download (1.67 MB)