---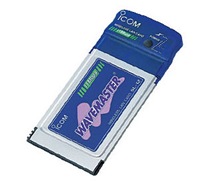 Provide broadband wireless 11Mbps
Simply Fast PC Card slot Wireless LAN 11Mbps achieved. Spread spectrum (SS) and adopted the strong noise and jamming, and with good confidentiality. Wireless data security encryption WEP (64/128bit) are equipped. WEP is a popular type of encryption security.
Low cost can be introduced easily at home
High-speed PC and PC Card slot provide wireless 11Mbps
AES (128/256bit), WEP (64/128bit) and robust security features.
Device Name: Icom Wireless LAN SL-12 (Pcmcia)
Hardware ID: PCMCIA\ICOM-SL-12-E300
Download ICOM SL-12 802.11b Wireless PC Card Windows WinXP/2000/98/ME Drivers, Utility:
Version: Ver. 1.46. Release date: 2003/01/29
Download 1, Download 2 (925 KB)