---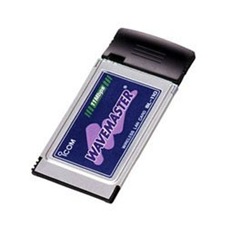 Separate types of antennas can be connected, 11Mbps Wireless LAN Card-enabled SS.
Interface: PC Card PCMCIA TypeII
Power: DC5.0V ± 5%
Supported Standards: Compliance IEEE802.11/IEEE802.11b
Transmission scheme: Spread spectrum (direct sequence) simplex method
Frequency range: 2400 ~ 2497MHz (all 14ch)
Transmission speed: AUTO setting (11Mbps, 5.5Mbps, 2Mbps, 1Mbps)
Security: WEP (64bit/128bit), ESS ID
Device Name: Icom Wireless LAN SL-110 (Pcmcia 5v)
Hardware ID: PCMCIA\ICOM-SL-110-3ABE
Download ICOM SL-110 802.11b Wireless PC Card Windows 98/ME/2000/XP Drivers, Utility:
Version: Ver. 2.30 Release date: 2001/10/31
Download 1, Download 2 (1.3 MB)
Note: Windows XP driver is shared with Windows 2000.