---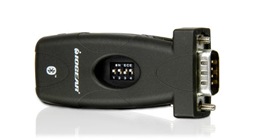 Description
IOGEAR's Serial Adapter with Bluetooth wireless technology brings wireless Bluetooth technology to your RS-232 serial equipment, allowing you to eliminate messy cables. With a range of up to 330 ft (100 meters), you can communicate with serial devices beyond the reach of conventional cables. Simply plug the wireless adapter into your serial equipment and transfer data to and from Bluetooth-enabled devices.
With no software required, the Serial Adapter with Bluetooth wireless technology is a true plug-n-play solution. All you need to do is plug in the serial adapter to serial RS-232 equipment with a DB-9 connection and enjoy the freedom of wireless Bluetooth technology. In addition, the unit features external DIP switches allowing you to easily configure the baud rate with the simple flip of a switch. It is also fully compliant with Bluetooth 1.1 specifications and supports authentication and encryption
Features
Eliminates messy cables and wirelessly communicate with serial RS-232 devices
Communicates with another IOGEAR Serial Adapter with Bluetooth wireless technology or other Bluetooth-enabled devices
Auto-connect feature when interconnecting two IOGEAR Bluetooth serial adapters
Easily accessible DIP switches for baud rate configuration
Configurable baud rate (9600 to 921600) DB-9 (9-pin) male connector
Bluetooth class 1 device; range up to 330 ft. (100 meters)
Compliant with Bluetooth 2.1 specifications
Supports both DCE and DTE devices
True plug-n-play, no software required
Supports RTS/CTS Hardware flow control
Secure communication using authentication and encryption
Supports speeds of up to 723.1 Kbps
Supports Bluetooth Serial Port Profile (SPP)
Warranty: 3-YEAR
Function Diagram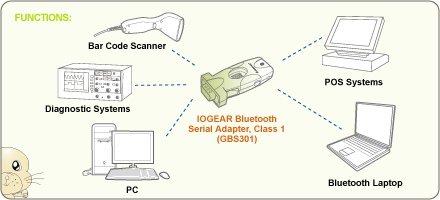 Requirements
Device with DB-9 connector and compliant with RS-232 protocol
NOTE: Due to various communication protocols and drivers, this adapter may not work with RS-232 modems, mice, keyboards, cell phones, and devices using proprietary communication protocols.