---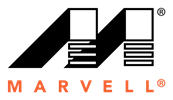 The Marvell 88W8688 is a low-cost, low-power highly-integrated IEEE 802.11a/g/b MAC/Baseband/RF WLAN and Bluetooth Baseband/RF system-on-chip (SoC). The device is designed to support IEEE 802.11a or 802.11g payload data rates of 6, 9, 12, 18, 24, 36, 48, and 54 Mbps, as well as 802.11b data rates of 1, 2, 5.5, and 11 Mbps for WLAN operation. For Bluetooth operation, the device supports Bluetooth 3.0 + High Speed (HS) (also compliant with Bluetooth 2.1 + EDR).
The 88W8688 provides the combined functions of the IEEE Standard 802.11/802.11b Direct Sequence Spread Spectrum (DSSS), 802.11a/g Orthogonal Frequency Division Multiplexing (OFDM) baseband modulation, Medium Access Controller (MAC), CPU, memory, host interfaces, direct-conversion WLAN RF radio, and Bluetooth on a single integrated chip. The core functional units of the 88W8688 are connected with a high throughput interconnect system, as shown in Figure 1.
The 88W8688 is equipped with a fully integrated RF to baseband radio that operates in both the 2.4 GHz ISM radio band for 802.11g/b WLAN applications and 5 GHz UNII radio band for 802.11a WLAN applications. It also contains all the circuitry to support both transmit and receive for Bluetooth operation. For optimum performance, the gain adjustment of the integrated LNA and AGC on the receive path is seamlessly controlled by baseband functions.
Integrated transmitters up-convert the quadrature baseband signal, and then deliver the RF signals to external power amplifiers for 2.4 GHz and 5 GHz radio band transmission. Local oscillator frequencies are generated by a fully integrated programmable frequency synthesizer with no external components. The loop bandwidth is optimized for phase noise and dynamic performance and quadrature signals are generated on-chip.
For security, the 88W8688 supports the IEEE 802.11i security standard through implementation of the Advanced Encryption Standard (AES)/Counter Mode CBC-MAC Protocol (CCMP), and Wired Equivalent Privacy (WEP) with Temporal Key Integrity Protocol (TKIP) security mechanisms. The device also supports Internet Protocol Security (IPsec) with DES/3DES/AES encryption and MD5/SHA-1 authentication.
For video, voice, and multimedia applications, the 88W8688 supports 802.11e Quality of Service (QoS). The device also supports 802.11h Dynamic Frequency Selection (DFS) for detecting radar pulses when operating in the 5 GHz range.
The 88W8688 supports a generic SPI (G-SPI) and SDIO host interface for connecting the WLAN to the host processor. High-speed UART, PCM/Inter-IC Sound (I 2S), and SDIO interfaces are available to connect the Bluetooth core to the host processor. A Bluetooth coexistence interface is also supported for external, co-located Bluetooth devices.
General Features:
Single-chip integration of 802.11a/g/b wireless directconversion radio, baseband, MAC, CPU, memory,host interfaces, and Bluetooth
Integrates all 802.11a/g/b RF to baseband transmitand receive operations, with support for externalpower amplifiers
Fully integrated frequency synthesizers withoptimized phase noise performance for OFDMapplications
Ultra low-power dissipation
Supports 12, 13, 19.2, 20, 24, 26, 38.4, 40, or 52 MHzoscillator clock source
Supports Marvell Bluetooth coexistence
Download 88W8688_802.11abg_+_BT_3.0_HS_MAC_BB_RF_SoC.pdf
For further information about Marvell products, see the Marvell website: http://www.marvell.com