---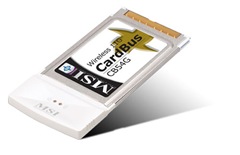 MSI Wireless 11g CardBus Card CB54G, compliant with IEEE802.11g, is a high-efficiency wireless adapter for wireless networking at home, in office or in public places. The data rate can be up to 54Mbps and auto-negotiated to 48, 36, 24, 18, 12, 9, 6Mbps (IEEE 802.11g), or 11, 5.5, 2, 1Mbps (IEEE802.11b).
The CB54G can be integrated into networking with either Ad-hoc mode (computer-to-computer, without an Access Point) or Infrastructure mode (computer-to-access point, an Access Point is required).
This software for 802.11 Cardbus/miniPCI/PCI/USB interface. The software will install the MSI WlanUtility/APUtility and driver to user computer. The supported OS contains Windows 98SE/ME/2000/XP.
Device Name: IEEE802.11g Wireless Cardbus Adapter
Device ID: PCI\VEN_14E4&DEV_4320&SUBSYS_68191462
Driver version
Package version: 4.1.19.29
3.50.21.11 (MS6802/04/07/19/20/25),
WlanUtility version 3.3.1.49, APUtility version 2.3.11.30, WlanService version 2.0.1.22
MSI CB54G Wireless 11g CardBus Card (MS-6819) Driver for Windows 9X/Me/2000/XP 32bit:
Download 1, Download 2, Download 3 (15383KB)