---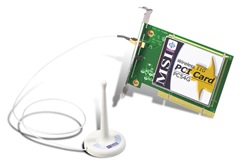 MSI's Wireless 11g PCI Card PC54G is a cost effective solution for desktop PC. It complies with IEEE 802.11g standard.
Secure Transmissions
WEP: 64 & 128-bit secured WEP (Wired Equivalent Privacy) encryption for securing wireless LAN data transmissions.
SSID: Only stations using the same SSID (Service Set ID) are permitted to communicate with each other.
54Mbps Data Rate
Nearly five-time faster than IEEE 802.11b, the PC54G runs with data-intensive applications including real-time MPEG video streaming - ideal for home or office networking requirements.
Interoperable with 802.11b Compliant Devices
The PC54G is compatible with IEEE 802.11b standard, allowing full interoperability with any IEEE 802.11b certified wireless product.
Device Name: IEEE802.11g Wireless PCI Adapter
Device ID: PCI\VEN_14E4&DEV_4320&SUBSYS_68251462
This software for 802.11 Cardbus/miniPCI/PCI/USB interface. The software will install the MSI WlanUtility/APUtility and driver to user computer. The supported OS contains Windows 98SE/ME/2000/XP.
Driver version
Package version: 4.1.19.29; 3.50.21.11 (MS6802/04/07/19/20/25)
WlanUtility version 3.3.1.49, APUtility version 2.3.11.30, WlanService version 2.0.1.22
MSI PC54G Wireless 11g PCI Card (MS-6825) Windows 9X/Me/2000/XP Driver, Software (15383KB):