---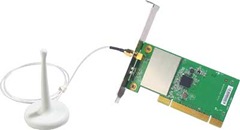 The MSI PC54G2 delivers up to 54Mbps transmission data rate in the 2.4GHz frequency. It works with IEEE 802.11g compliant devices and is capable of handling data-incentive applications including real-time MPEG video streaming. In addition, the PC54G2 comes equipped with the ability to help prevent access to
sensitive data on the network to secure over the air transmissions with 64/128-bit WEP encryption.
Device Name: 802.11g PCI Wireless Network Adapter
Device ID: PCI\VEN_1814&DEV_0201&SUBSYS_68341462
This software for 802.11 Cardbus/miniPCI/PCI/USB interface. The software will install the MSI WlanUtility/APUtility and driver to user computer. The supported OS contains Windows 98SE/ME/2000/XP/XP professional X64 Edition.
Driver version:
Package version: 4.3.1.4, 3.1.0.0 (MS6833/34/35),
WlanUtility version 3.3.1.53, APUtility version 2.2.11.35, WlanService version 2.0.1.24
Update Date: 2006-05-09
MSI PC54G2 Wireless 11g PCI Card (MS-6834) Driver, Software for Windows 9X/Me/2000/XP 32bit/64bit (8864KB):