---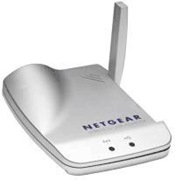 Device Name: NETGEAR WG121 802.11g Wireless USB2.0 Adapter
Device ID: USB\VID_0846&PID_4200;  USB\VID_0846&PID_4210
WG121 Software Version 2.0 Release Notes
This software is compatible with Windows 98SE, Windows ME, Windows 2000 and Windows XP.
WPA is supported with Windows XP supplicant and Funk Odyssey. This release does not support WPA with NETGEAR's user interface.
The WG121 is backward compatible with USB 1.1, however speed is limited to the USB's 14 Mbps. Furthermore, there is some overhead between the USB port and CPU or memory interface, so somewhat less than 14 Mpbs is attained.
Specification: Microsoft NDIS 5.0, 5.1.
Note: If you install version 2.0 of the software, and have older firmware, after unplugging and reinserting the WG121 a warning screen appears. Click OK to dismiss it.
Known Issues
Device will not wake up after Hibernate mode.
When a Linksys AP WAP54G is set to 'G-only' mode and the WG121 uses a default setting, it will not connect. The WG121 preamble setting must be set to 'short'.
Driver Download Link: wg121v200.zip, Size: 4.39 MB, Published: Jan. 16, 2004