---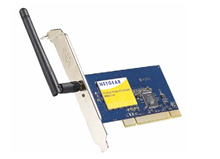 Power-packed 802.11b/g Wireless Networking for Your Desktop
At 54 Mbps, this wireless 2.4 GHz 802.11b/g PCI card is much faster than existing 11 Mbps wireless networks and will supercharge the delivery of media-rich content to your desktop PC as never before. It easily handles huge digital video and MP3 files, firing them through your network at blazing speeds.
Device Name: NETGEAR WG311v3 802.11g Wireless PCI Adapter
Device ID: PCI\VEN_11AB&DEV_1FAA&SUBSYS_6B001385
The WG311v3 is labeled "WG311v3".
The driver for this version is NOT compatible with the WG311v2 or WG311v1 adapters. (See below for these products.)
WG311v3 Software Version 3.1, Published Feb 29, 2008
Driver Version: Windows XP/2000: 3.2.43.306; Vista (32 Bit): 1.0.0.53
Netgear WG311v3 802.11g Wireless PCI Adapter Windows 2000/XP/Vista Driver, Utility:
The driver also support "NETGEAR WG511v2 54 Mbps Wireless PC Card".
[From: Netgear]