---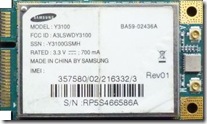 This HSPA data card model is GT-Y3100, The module has been integrated in the Samsung NC-10 (HAZ1UK, HAV1UK) netbook.
Samsung Y3100 HSPA Modem Driver and SAMSUNG Connection Manager, V1.6.8.0103, 01 Jun, 2009, 44.67MB, MULTI LANGUAGE, For Windows 2000, XP, Vista
If you need Samsung Y3100 driver only, Download Here (only driver, no SAMSUNG Connection Manager)
Install tips: After the file has been sucessfully extracted, see the extracted files.  Run ''Setup.exe'' file or ''setup.exe'' file in the folder.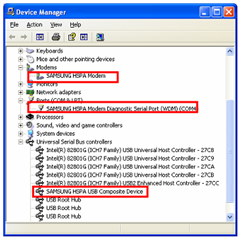 After you had installed the driver successfully, three new device would be found in the Device Manager.
1. "SAMSUNG HSPA Modem"  [USB\VID_04E8&PID_6773&MI_00&OS_NT]
2. "SAMSUNG HSPA USB Composite Device" [USB\VID_04E8&PID_6773]
3. "SAMSUNG HSPA Modem Diagnostic Serial Port (WDM)" [USB\VID_04E8&PID_6773&MI_02&OS_NT]
Samsung Connection Manager is a PC application that helps you connect to wireless internet using a Samsung HSDPA USB modem. This application also provides many useful and efficient user functions, such as message and phonebook management, messenger, and more.