---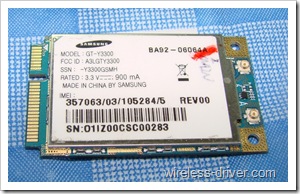 This Samsung HSPA data card model is GT-Y3300, support HSUPA/HSDPA/UMTS/EDGE/GPRS.
The HSPA data card has been integrated in the Samsung NP-N150 (some model) netbook.
Samsung Y3300 HSUPA/HSDPA Modem Driver and SAMSUNG Connection Manager, V.2.1.0.0110, 39.7MB, MULTI LANGUAGE, For Windows 2000, XP, Vista, Win7.
If you need Samsung Y3300 driver only, Download Here (only driver, no SAMSUNG Connection Manager)
before installing driver, there are 4 "Samsung Kiera" device under "Other devices" in the "Device Manager".
The Hardware IDs Listed below:
USB\VID_04E8&PID_6872&MI_00, USB\VID_04E8&PID_6872&MI_02
USB\VID_04E8&PID_6872&MI_06, USB\VID_04E8&PID_6872&MI_04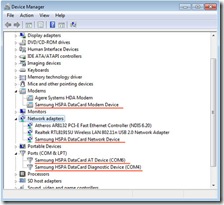 After you had installed the driver successfully, four new device would be found in the Device Manager.
Device Name:: samsung HSPA DataCard Modem Device
Hardware ID:: usbcdcacm\VID_04E8&PID_6872&MI_00
Device Name:: Samsung HSPA DataCard Network Device
Hardware ID:: usbcdcecm\VID_04E8&PID_6872&MI_06
Device Name:: Samsung HSPA DataCard AT Device
Hardware ID:: usbcdcacm\VID_04E8&PID_6872&MI_02
Device Name:: Samsung HSPA DataCard Diagnostic Device
Hardware ID:: usbcdcacm\VID_04E8&PID_6872&MI_04