---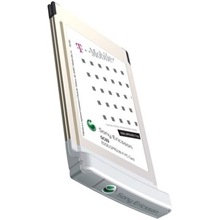 Enjoy seamless, global connectivity. The quad-band GC89 keeps you connected to email, the Web and company networks, wherever business takes you.
Product MPN: 610214611642
Features
Power class: GMSK-Class 4 (850/900 MHz), Class 1 (1800/1900 MHz), 8 PSK-Class E2, UE Power Class 3
SIM Card: supports 1.8- and 3-Volt SIM cards
Data: TCP/IP version 4
Error correction: End to End MNP2-4, LAPM (V.42), Network supported RLP
Compression: MNP5, V.42bis GSM & TCP/IP Header Compression
GSM 850, EDGE, CSD, GPRS, WLAN 802.11g, WLAN 802.11b, GSM 900, GSM 1800, GSM 1900
EDGE/GPRS Modem Device Info:
Device Name: Sony Ericsson GC89 EGPRS Modem
Hardware ID: PCI\VEN_14E4&DEV_4344&SUBSYS_000318DE
Wireless LAN Adapter Info:
Device Name: Sony Ericsson 802.11g Wireless LAN Adapter
Hardware ID:
PCI\VEN_14E4&DEV_4325&SUBSYS_000318DE
PCI\VEN_14E4&DEV_4325&SUBSYS_000618DE
Download Sony Ericsson GC89 EDGE / Wireless LAN PC Card Windows Driver, Software:
There are 2 versions of this software.
1. English, Spanish, French - Sony Ericsson Wireless Manager  4.2.5.83
This version supports:  Windows 2000(SP4), Windows XP(SP2), Windows Vista(32/64-bit)
Download (File size 65.7 Mb)
2. (GC89) Sony Ericsson Wireless Manager, Version 3.4.5.1518 - US, for Windows 98SE/ME
Wireless Manager application and drivers for GC89 PC Card, This package contains: EN – English UK, ES – Spanish, FR – French
Download (File size 23.6 Mb)
[ These software from Sony-Ericsson official ]