---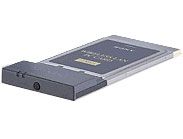 Access email, the Internet, or your network wirelessly! The Sony VAIO Wireless LAN (Access Point and LAN cards) lets you share files, drives, printers with one or more computers on your wireless network. Using IEEE 802.11b industry standard wireless LAN, you are assured of secure communication, high-speed data transfer rates (up to 11Mbps), and a range of up to 150 feet (line-of-sight).
Key Features
Form Factor: Expansion Card
Interface Compatibility: PC Card
WLAN Standards: IEEE 802.11b
Device Name: Sony PCWA-C100 Wireless PC Card
Hardware ID: PCMCIA\SONY_CORPORATION-PCWA-C100-FFBF
Sony PCWA-C100 PC Card Win98/WinME/Win2000/WinXP Driver, Utility, Wireless LAN Software Update.
Download 1, Download 2    ( Version: 2.2.4 Last Modified: 11/13/2003 Size:7.48 MB )
This update contains two different applications that can be used together or individually:
WirelessLAN Setup Utility Version 2.2.4:   Used to configure the PCWA-A100 and PCWA-A200 Access Point with the PCWA-C100, a computer with the Wireless LAN chipset built-in or with other Wireless LAN PC cards such as the PCWA-C150S or PCWA-C700. NOTE:  If you are not using PCWA-A100 or PCWA-A200 as the Access Point, then the WirelessLAN Setup Utility is not needed.
Wireless Palette:  Used to establish a connection between the PCWA-C100 Wireless Client and the PCWA-A100 or PCWA-A200. NOTE:  If you are not using the PCWA-C100 as the Wireless card, then the Wireless Palette software is not needed.
The driver also support these device:
ORiNOCO Wireless LAN PC Card (3.3 and 5 volt) [PCMCIA\LUCENT_TECHNOLOGIES-WAVELAN/IEEE-364C]
ORiNOCO Wireless LAN Mini PCI Card [PCMCIA\LUCENT_TECHNOLOGIES-WAVELAN/IEEE-911F]