---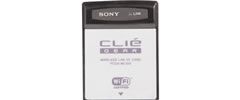 Sony PEGA-WL100 CLIÉ Wireless LAN CF Card
Key Features
Form Factor: Expansion Card
Interface Compatibility: Compact Flash Card
Standard: IEEE 802.11b
WEP Encryption: 40 bit (=64 bit), 128 bit
This utility installs the PEGA-WL100\WL110 Driver Update to add the following enhancements:
Displays the MAC address in the "Wireless LAN Detailed Settings" window.
Adds compatibility for more Wireless Access Points.
Operating System(s): Palm OS Software 5.0
Filename: WL100_ENUS.PRC Version: 1.1.3  Last Modified: 04/08/2003
Download 1, Download 2 (Size:118.94 KB)
Sony PEGA-WL100 Clie Wireless LAN CF Card WinCE 3.0 Driver: Download (same to Intel 2011 CF Card)
Sony PEGA-WL100 Operating Instructions (primary manual) For Palm OS.
Mobile Connection Wizard:
The Mobile Connection Wizard is an application suite that helps you quickly and easily configure your CLIÉ® Handheld for wireless connections. This update provides PalmOS® 5 support for the PEG-NX60, PEG-NX70V, PEG-NX73V, PEG-NX80V, PEG-NZ90, PEG-TG50, PEG-TJ37, PEG-TH55, PEG-UX40 and PEG-UX50 CLIÉ handheld models.
Filename: INST_MCW21US.EXE, Version: 2.1  Last Modified: 03/18/2004 Size: 4.57 MB