---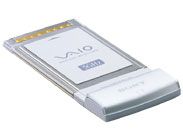 Using IEEE 802.11a technology, this wireless LAN PC Card enables you to transfer data up to 54Mbps. Enjoy peer-to-peer transfer with multiple PC Cards, or use with an access point for server to client transfer.
Connects up to 16 PC's per Access Point
Compatible with IEEE 802.11a (5 GHz) wireless devices
Up to 54 Mbps high speed data transfer rate
Secure 64 or 128 bit WEP encryption
Compatible with Windows 2000 Pro, Me, and XP
Sony PCWA-C500 802.11a Wireless Lan PC Card driver and Utility (Wireless Panel ver.2.0.0.11051).
Model: PCWA-C500 (Sony 802.11a Wireless LAN Adapter)
Hardware ID: PCI\VEN_168C&DEV_0007&SUBSYS_8101104D, PCI\VEN_168C&DEV_0007&SUBSYS_8102104D
Sony PCWA-C500 802.11a Wireless Lan PC Card Win2000/WinXP Drivers, Utility:
Download (5.0MB)
RAR PASS: www.wireless-driver.com