---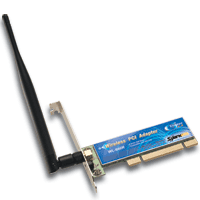 The Sparklan WL-660R wireless 11b/g PCI Adapter speeds up the data transmission rate to 54Mbps which is five times faster than the 802.11b devices. Since 802.11g products share the same 2.4GHz radio band with all other 802.11b devices, the WL-660R adapter is backward compatible with other 802.11b wireless LAN devices.  The WL-660R PCI Adapter installs in most desktops so that you can relocate your computers to places you want at home or anywhere in the office without the cost and hassle of running network cables. No more drilling holes in the walls and through the ceiling to get connected to the network. Installation Wizard will guide you through easy set up steps. Once the installation is done, all you have to do is just sit back and enjoy the speed of powerful 11g.
Standard IEEE 802.11b/g, Data rate up to 54 Mbps
Chipset: Ralink RT2561
Encryption: WEP, WPA, TKIP, 802.11i
Output ppower - 802.11b: 19 dBm, 802.11g: 15 dBm
Receiver sensibility: 54 Mbps 10-5 BER -70 dBm, typical
Working distance: indoor 31-100m, outdoor 100-300m (depends from the environment)
2 dBi detachable antenna
The Sparklan WL-660R is another Ralink RT2500 series Wireless LAN Card.
Download Sparklan WL-660R Wireless 11b/g PCI Adapter Windows/Linux Drivers:
Driver for Windows 98/ME/2000/XP, v2.2.7.0