---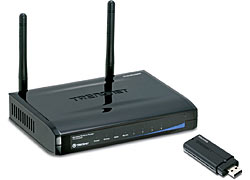 The Wireless N Home Networking Kit allows you to create a secure high performance wireless n network with 12x the speed and 4x the coverage of wireless g*.
Quickly install the Wireless N Home Router and then use the Wireless N USB Adapter to connect a laptop or desktop at the touch of a button with one-touch Wi-Fi Protected Setup (WPS) technology.
The latest in wireless encryption and a double firewall safeguard your data. Advanced antenna technology (MIMO) delivers expansive coverage and minimizes wireless dead spots. A quick and intuitive installation process, remote management capabilities and a 3-year limited warranty make this kit well suited for your most demanding networking needs.
*Maximum wireless signal rates are referenced from IEEE 802.11 theoretical specifications. Actual data throughput and coverage will vary depending on interference, network traffic, building materials and other conditions.
TEW-644UB Specifications
Hardware
Interface
USB 2.0
Standards
IEEE 802.11b, IEEE 802.11g and IEEE 802.11n (draft 2.0)
LED Indicator
Activity
Power Consumption
Receive mode: 250mA (max) ; Transmit mode : 320mA (max)
Supported OS
Windows 2000/XP(32/64-bit)/Vista (32/64-bit)
Dimensions (LxWxH)
80 x 27 x 12mm (3.1 x 1 x 0.5in)
Weight
20g (0.7oz)
Temperature
Operating: 0° ~ 40° C (32° ~ 104° F); Storage: -10° ~ 70° C (14° ~ 158° F)
Humidity
10% ~ 90% max (non-condensing)
Certification
FCC, CE
Wireless
Module Technique
DBPSK/DQPSK/CCK/OFDM (BPSK/WPSK/16-QAM/64-QAM)
Antenna
Built-in 2 on board antennas
Frequency
2.412 ~ 2.484 GHz
Data Rate (auto fallback)
802.11b: 11Mbps, 5.5Mbps, 2Mbps, and 1Mbps
802.11g: 54Mbps, 48Mbps, 36Mbps, 24Mbps, 18Mbps, 12Mbps, 9Mbps and 6Mbps
802.11n: up to 300Mbps (RX)/150Mbps(TX)
Output Power
802.11b: 16dBm (typical)
802.11g: 14dBm (typical)
802.11n : 12dBm (typical)
Receiving Sensitivity
802.11b: -89dBm (typical) at 11mpbs
802.11g: -73dBm (typical) at 54Mbps
802.11n: -63dBm at 150Mbps
Encryption
64/128-bit WEP (Hex & ASCII), WPA/WPA2 (TKIP/AES), WPA-PSK/WPA2-PSK
Channels
1~11 (FCC), 1~13 (ETSI)




TEW-652BRP Specifications
Hardware
Standards
Wired: IEEE 802.3 (10Base-T), IEEE 802.3u (100Base-TX)
Wireless: IEEE 802.11b, IEEE 802.11g, IEEE 802.11n (draft 2.0), IEEE 802.11e QoS
WAN
1 x 10/100Mbps Auto-MDIX port (internet)
LAN
4 x 10/100Mbps Auto-MDIX ports
WPS Button
Enable Wi-Fi Protected Setup function
Connection Type
Dynamic IP, Static (Fixed) IP, PPPoE, PPTP, L2TP, BigPond
UPnP
UPnP IGD 1.0 compliant
DMZ
DMZ host & Virtual Servers
DNS
Static or WAN assigned DNS servers; 3 verified services for DDNS
Internet Access Control
MAC Address Filter, Domain/URL Filter, Protocol/IP Filter
Logging
5 types of event logging; email report
LED Indicator
Power, LAN1~LAN4, WAN, WLAN
Power Adapter
5V DC, 2.5A external power adapter
Power Consumption
7watts (max.)
Dimension (L x W x H)
150 x 110 x 30 mm (5.9 x 4.3 x 1.1 inches)
Weight
245g (8.6 oz)
Temperature
Operation: 0°~ 40°C (32°F~ 104°F); Storage: -10°~ 70°C (14°F~158 °F)
Humidity
Max. 90% (non-condensing)
Certifications
CE, FCC
Wireless
Frequency
2412~2484MHz ISM band
Antenna
2 x 2dBi detachable dipole antennas
Media Access Protocol
CSMA/CA with ACK
Data Rate
802.11b: 11Mbps, 5.5Mbps, 2Mbps, and 1Mbps
802.11g: 54Mbps, 48Mbps, 36Mbps, 24Mbps, 18Mbps, 12Mbps, 9Mbps and 6Mbps
802.11n: up to 300Mbps
Security
WEP(HEX/ASCII): 64/128-bit WPA(AES/TKIP): WPA/WPA2, WPA-PSK/WPA2-PSK
Enable/Disable broadcast SSID
Output Power
802.11b: 17dBm (typical)
802.11g: 13dBm (typical) 802.11n: 13dBm (typical)
Receiving Sensitivity
802.11b: -85dBm (typical) @ 11Mpbs
802.11g: -68dBm (typical) @ 54Mbps
802.11n: -62dBm (typical) @ 300Mbps
Channels
1~ 11 (FCC), 1~13 (ETSI)