---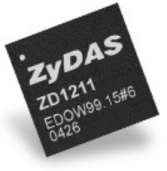 ZD1211 is a compact, low power, high security and high performance solution for versatile WLAN applications.  ZD1211 integrates WLAN MAC controller, base-band processor and USB 2.0 interface in single chip. The integrated USB 2.0 controller reduces the cost and design complexity. No extra memory device is needed. It can fit into small PCB form factor. There is Micro-Controller inside the chip. This allows the flexibility to software change the operation scenario to adapt in USB or WLAN compatibility issues. Integrated standard compliant hardware security engine to improve the performance in security mode. The hardware engine includes the WEP64, WEP128, WEP256, AES-CCM, TKIP that comply Wi-Fi and IEEE 802.11 defined standards.
FREE DOWNLOAD ZyDAS ZD1211 802.11b/g Driver for Windows 95/98/9X/ME/NT/2000/2K/XP/2003
Supported models: (based on the ZydasZD1211(B) Chipset.)
3COM 3CRUSB10075, AOpen 802.11g WL54, iNexQ UR055g, Sitecom WL-113, Telegent TG54USB, TwinMOS G240, Yakumo QuickWLAN, Airlink+ AWLL3025, Zyxel ZyAIR G-220, X-Micro XWL-11GUZX, Edimax EW-7317UG, Safecom SWLU-5400, Longshine LCS-8131G, Planet WL-U356, Sweex wireless 54MB, Acer WLAN-G-US1, Trendnet TEW-424UB, DrayTek Vigor 550, Asus WL-159g, Fiberline WL-410u, ....
Device Name: ZyDAS ZD1211 802.11b+g Wireless LAN
Support Device Hardware IDs:
USB\VID_0ACE&PID_1211, USB\VID_0586&PID_3401
USB\VID_0586&PID_3402, USB\VID_0B3B&PID_5630
USB\VID_0B3B&PID_6630, USB\VID_0B3B&PID_1630
USB\VID_129B&PID_1666, USB\VID_0CDE&PID_0009
USB\VID_0CDE&PID_0011, USB\VID_079B&PID_004A
USB\VID_6891&PID_A727, USB\VID_1435&PID_0711
USB\VID_0DF6&PID_9071, USB\VID_07B8&PID_6001
USB\VID_126F&PID_A006
ZyDAS ZD1211 802.11b/g Driver 4.13.00 for Windows - FREE DOWNLOAD
If you look for the Windows XP, Vista, Win7 64bit driver for ZyDAS ZD1211(Atheros AR5005UG): Try this.